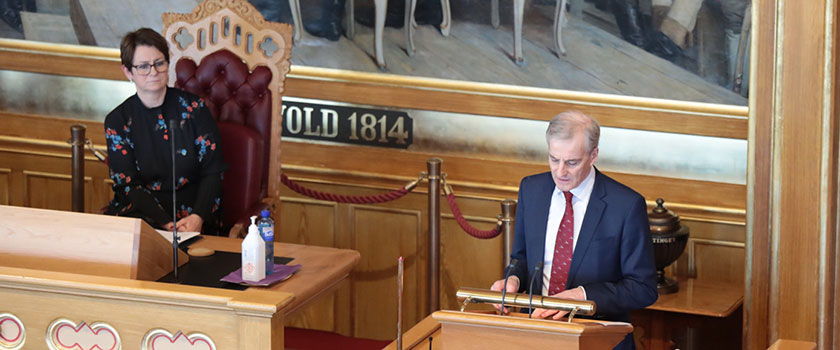 The Corona Act
A new Corona Act has been adopted. The government bill was passed unanimously in the Storting at both its first reading on Saturday 21st March and its second reading on Tuesday 24th March.
The new temporary legislation is an enabling act that aims to mitigate the consequences of the coronavirus pandemic. It gives the King (i.e. the Government) the authority to add to or depart from certain legislation as far as is necessary to safeguard the intention of the law. A full list of the laws that fall under the Corona Act is available in the committee's recommendation (Norwegian only).
The Storting has also adopted a new section in the Rules of Procedure (§ 50 a) which specifies how announcements from the Government about such regulations may be considered swiftly and efficiently in the Storting.
The regulation states that government announcements must be made available to the Members of the Storting as soon as possible. If at least one-third of the total number of Members does not support a regulation or parts of a regulation, the MPs in question may send a written declaration to the Storting's Presidium. As soon as the Presidium receives such a declaration, it will notify the Government. The Corona Act obligates the King to revoke the regulations in question with immediate effect.
Background
The Government's reason for putting forward the bill is that there is not enough time during the current coronavirus crisis to follow the provisions in the Norwegian Constitution for enacting legislation.
This was the first matter dealt with by the Coronavirus Special Committee, which was constituted in the Storting on Monday 16th March.
Last updated: 26.03.2020 14:41